Supporting Our Communities
Volunteering to Help Build Houses for People in Need
Since 2013, Korean Re has been taking part in the Building Homes of Hope initiative in partnership with Habitat for Humanity Korea to support families in poor housing conditions. Over the past eight years, our employees have participated in a number of home-building projects, helping to address people's need for safe and stable homes in many communities across the nation. In 2020, there was a temporary suspension of our participation in a home-building project due to concerns on the health of volunteering employees during the pandemic. We plan to resume our volunteer program in 2021 and engage in the building of mobile homes by organizing smaller groups of volunteers under strict safety precautions against COVID-19.
Number of Korean Re Volunteers
(Unit: Person)

Caring for Our Close Neighbors
Korean Re has long been demonstrating what it means for a business to be good for society and the communities where it operates. Through a program called "Sharing Hopes with Our Neighborhood," we help our close neighbors by serving food that is personally cooked by our employees. Since 2015, we have organized many rounds of community food-sharing events at a local Red Cross volunteer center where groups of Korean Re employees cooked food and baked bread. The food is packed and then delivered to those underserved families living in the Jongno District of Seoul.
In addition, for the past 17 years, Korean Re employees have helped financially-strapped families in Ihwa-dong, an inner city neighborhood close to Korean Re's head office in Seoul. This annual charitable initiative is organized at the end of each year to help make our neighbors' winter a little warmer. In 2020, we were not able to make door-to-door deliveries due to COVID-19 but made sure that packages of rice, noodles, kimchi and other necessities were sent to single-parent households, elderly people living alone, and child education centers in the community.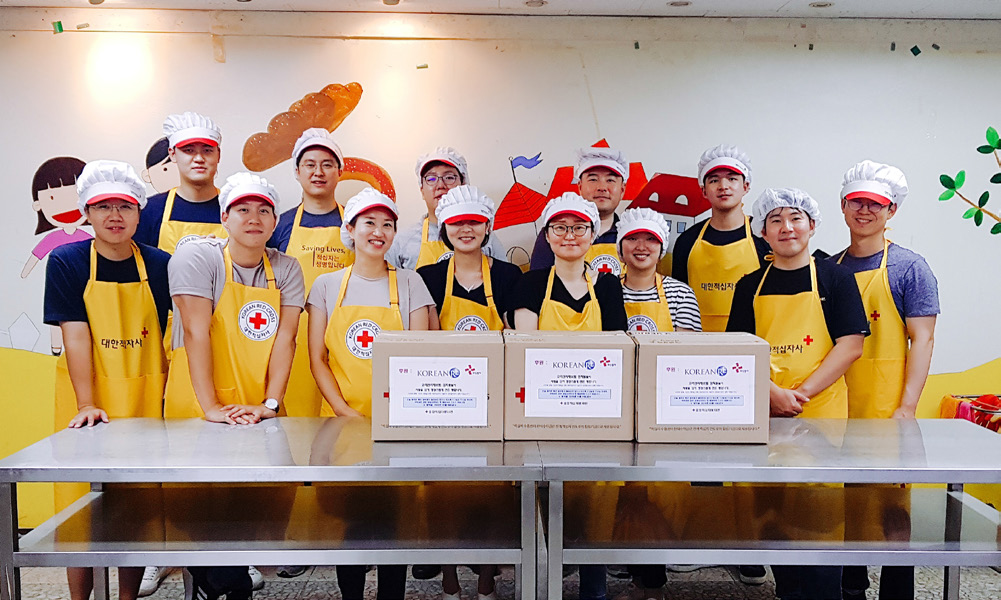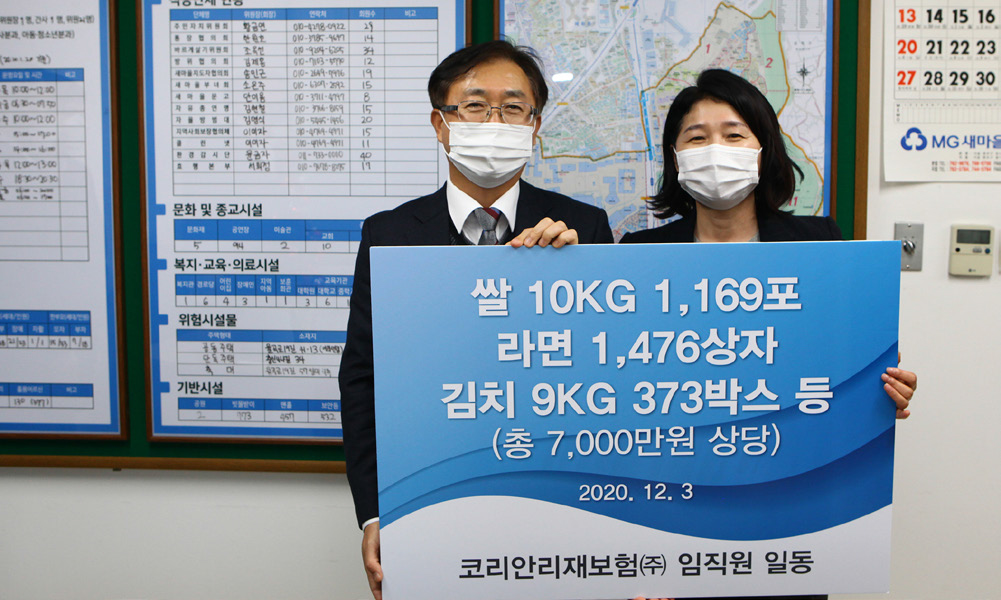 Sponsoring a Youth Cello Ensemble
Art and culture is another important area of focus in our social contribution activities, as we at Korean Re believe that art and culture can be a powerful agent of community development. Since entering into a sponsorship agreement with the Miral Welfare Foundation in 2017, Korean Re has continued to support a cello ensemble named Wing, which is comprised of 20 autistic or intellectually challenged children and teenagers.
Korean Re has committed roughly KRW 100 million every year to the ensemble so that these young cello players can communicate with the world through music. Our annual donation of funds has been used to pay for lessons and instrument repairs, as well as to organize concerts.
Participating in Overseas Disaster Recovery Activities
As a reinsurer aiming to become a global leader, we also care for people and communities outside of Korea. Since 2014, Korean Re has sent a group of employees primarily composed of new hires to the typhoon-hit community of Ayutthaya, Thailand to support its recovery from the natural disaster. In particular, we took part in projects that build houses for those who live in poor housing condition.
In 2020, we were not able to send our volunteer team due to the pandemic, but our commitment to international disaster relief efforts remains solid. If conditions permit in the future, we will continue to implement our international corporate volunteering program to support the rehabilitation of communities devastated by natural disasters.